Upcoming Events
Quick Links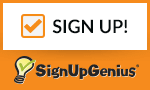 News & Notes
End of Year Exam Schedule

JL Mann 2018-2019 end of the year exam schedule.
---
CHEER at JL Mann

Are interested in trying out for CHEER at JL Mann?
There will be a mandatory Parent Meeting on Wednesday March 27 from 6:00 - 7:15pm in the Media Center for anyone interested in trying out for JL Mann Cheerleading for the upcoming 2019 - 2020 school year.
If you and your parent cannot attend this meeting, you must contact Coach Cravens at scravens@greenville.k12.sc.us to find out how to get a tryout packet.
---
Senior Prom Tickets

Prom tickets go on sale on March 25th. Be sure to pay your obligations in the media center before trying to buy tickets!
$40 each March 25-March 29
$50 each April 1- April 5
---
Palmetto Boys State Interviews

Attention Junior Boys! Interviewers from Palmetto Boys State will be here at Mann to interview interested students on Wednesday, March 27th. If you are interested in interviewing for the opportunity to attend PBS this summer, please sign up in the school counseling office lobby. The deadline to sign up is the end of the day on Thursday, March 21st. More information is in your school email!
---
Shrek the Musical

Tickets for Shrek are now on sale for $10.75 and $15.75. Play dates are April 4th, 5th, and 6th. We anticipate these to sell quickly so do not wait. Ticket sales at the door will be limited and we will stop selling tickets 30 minutes prior to curtain for each performance.
---
JL Mann's 2018-2019 yearbook For Sale

JL Mann's 2018-2019 yearbook is on sale NOW for only $75 (+$6 for cover personalization). February 22nd is the LAST day to get your yearbook reserved! If you haven't purchased your book yet, head on over to jostens.com to get your book reserved TODAY! If you would like to send in an order form or money to purchase, please send in the exact amount or a check made out to JL Mann High School with your child's name on the check. Please see Mrs. Sabillon for any questions in room 808 or by email jsabillon@greenville.k12.sc.us
---
AP Capstone Applications now being accepted

AP Capstone Applications now being accepted. Deadline is March 29, 2019. For more information see the AP Capstone Flyer.
---
J.L. Mann Booster Club Parent BBQ

The J.L. Mann Booster Club will host a Parent BBQ on Saturday, March 30, 2019 from 7:00PM-11:00PM. For ticket information visit the J.L. Mann Booster Club eventbrite website.
---
Attendance Verification form for students who are applying for a driver's license

Students who are under 17 years of age and are applying for a South Carolina Driver's License must complete the PDLA form (Practice Driving with a Licensed Adult). This form will be used to certify school attendance or a driver training school once a student has successfully completed the driver's education course.
An applicant under the age of 17 must satisfy the school attendance requirement in accordance with SC Code of Law §56-1-176. Part 2 of Form PDLA must be completed and signed by a high school office administrator where the applicant is enrolled certifying that the applicant is currently enrolled and not currently suspended or expelled. The definition for "School Office Administrator" includes the principal, assistant principal, guidance counselor and administrative professional (secretary). Along with their signature, he or she must provide the title of their position at the school.
---
Changes in Powerschool for Emergency Text Messaging

Parents, in an effort to better communicate with you during times of emergency, the Greenville County Schools Communications Department is asking ONLY parents who currently have a landline listed as their "Primary Contact Phone" and wish to receive texts about school cancellations or other emergency schedule changes to please fill out the Change in Phone Number form. If you already have listed a cellular phone as your primary contact, you will not need to take action to receive this service. Please return the completed Change in Phone Number form to the school guidance office or fax it to 864-355-9672.
---
Technology Fee and Class Dues

Technology Fee
All JL Mann students will pay a Technology Fee for the 2018-2019 School Year that will serve, in part, to protect students who have accidental damages occur with the device. The Technology Fee is based upon where students fall under the Free and Reduced Price Meal Program. For more information about what the technology fee covers and does not cover go to https://sites.google.com/greenvilleschools.us/jlpersonalized/general-information/repair-policy.
Class Dues
Class dues are paid by each student yearly. They are $25.00 per student ($15.00 for reduced lunch students and $5.00 for free lunch students). These dues are used to pay for the following:
class activities associated with school culture and instruction
paperback copy of the book chosen for the School Wide Book Read in January
25 prints per month from their Chromebooks
each class account rolls over to ultimately pay for their Senior Graduation (Timmons Arena rental, programs, decorations). Last year graduation expenses totaled $7,000.00.
*Students who do not pay their Class Dues or their Technology Fee will have the fees added to the obligations list and that debt will carry all applicable restrictions associated with debts for students.
---
Broadband internet service available for low-income individuals in SC

Through budget and policy recommendations to the General Assembly, the Education Oversight Committee (EOC) has supported initiatives to expand Internet access to students in classrooms and beyond the traditional school day to students at home.
Access from AT&T® provides an affordable way for eligible low-income consumers to get affordable Internet access. Households with at least one resident participating in Supplemental Nutrition Assistance Program (SNAP) may qualify for Internet service at $5 or $10 per month, depending on the speed available. In addition, installation and Internet equipment fees will be waived for participating households. Potential customers can learn more and see if they qualify by visiting att.com/access, or by calling 1-855-220-5211 for assistance in English or 1-855-220-5225 for assistance in Spanish.
For more information on qualifications, click here.
---
Attention Parents and Students in the Class of 2019! Sign up to receive Senior Announcements on your phone!

---
---