Upcoming Events
Quick Links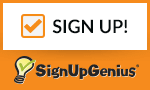 News & Notes
American Education Week

American Education Week is November 12-16. This year's AEW theme in Greenville County Schools is "The Little Things Make Big Things Happen." Employees at all levels of this organization have countless opportunities to make a positive impact on students, families, our community and one another. The Communications Department will be profiling outstanding staff members and posting their stories on the GCS website and social media platforms. We'd like all schools/employees to participate. You can print out a Little Things Thank You sign and write the name of someone who deserves a shout out. We encourage you to take photos with the signs and post them to your school page with the hashtags #thelittlethings and #gcsaew2018. You are welcome to share the signs with parents and your school community.
We appreciate all you do to help us recognize and support the amazing employees of Greenville County Schools. Here is the schedule for AEW recognitions:
Monday – School Support Staff
Tuesday – Transportation Staff
Wednesday – Educators (includes principals, APs, ICs, guidance, media specialists, and classroom teachers)
Thursday – Operations and Maintenance Staff
Friday – District Staff
---
Midterm Exam Schedule

Click here to print a copy of the 2018-2019 Midterm Exam Schedule
---
JL Mann High School Marching Patriots Reach South Carolina 4A State Championship

The JL Mann High School marching band, the Marching Patriots, has earned an invitation to the South Carolina 4A State Championship for 2018. The competition will take place in Columbia, SC on Saturday, October 27, 2018. This is the first occasion in JL Mann school history that the band has qualified for the State Championship.
This achievement caps a multi-year season of growth for the Marching Patriots. In 2011, only 12 JL Mann students participated in band. Under the leadership of Band Director David Keller, the band now includes 80 wind, percussion and guard members. Assistant Directors for 2018 include Jason Ray, Kristen Smith, and Victoria Adams.
The Marching Patriot's 2018 show is entitled, "Alice", and portrays a unique characterization of the beloved children's character. The band is under the direction of Drum Majors Courtney Fuller and Griffin Webb.
State 4A Championships will take place on Saturday, October 27, 2018 at Spring Valley High School, 120 Sparkleberry Lane, Columbia, SC. The JL Mann Marching Patriots will be performing at 5:15 pm. All members of the community are invited to come out and support the band.
---
EnergyStar Certified Building

J.L. Mann was recognized as an EnergyStar Certified Building by the Environmental Protection Agency. There are a total of 85 EnergyStar Certified Buildings in the state of South Carolina- 68 are in Greenville County Schools. Earning the EnergyStar label means that our building is performing better than 75% of similar buildings in similar climates.
In 2011, there were only 7 EnergyStar certified buildings in Greenville County Schools. Since then, Greenville County Schools has increased their number of EnergyStar certified buildings by 971% !!!
---
Senior Ads On Sale

Senior Ads are on sale now! Seniors should have received the information along with the order form in the mail a few weeks ago. If you didn't, you can find all of the information including pricing and deadlines by clicking here! See Mrs. Sabillon in room 808 with any questions or email her at jsabillon@greenville.k12.sc.us
---
Yearbooks for Sale

Yearbooks are on sale in room 808 (Mrs. Sabillon) right now for only $75! Download the form, fill it out, and send it with your payment in cash or check form to Mrs. Sabillon before prices go up! This is a yearbook that you will never forget!
---
Technology Fee and Class Dues

Technology Fee
All JL Mann students will pay a Technology Fee for the 2018-2019 School Year that will serve, in part, to protect students who have accidental damages occur with the device. The Technology Fee is based upon where students fall under the Free and Reduced Price Meal Program. For more information about what the technology fee covers and does not cover go to https://sites.google.com/greenvilleschools.us/jlpersonalized/general-information/repair-policy.
Class Dues
Class dues are paid by each student yearly. They are $25.00 per student ($15.00 for reduced lunch students and $5.00 for free lunch students). These dues are used to pay for the following:
class activities associalted with school culture and instruction
paperback copy of the book chosen for the School Wide Book Read in January
25 prints per month from their Chromebooks
each class account rolls over to ultimately pay for their Senior Graduation (Timmons Arena rental, programs, decorations). Last year graduation expenses totaled $7,000.00.
*Students who do not pay their Class Dues or their Technology Fee will have the fees added to the obligations list and that debt will carry all applicable restrictions associated with debts for students.
---
Drama Department Raffle

The drama department is having a raffle for a chance to win 2 tickets to the December 11 performance of Hamilton at the Peace Center. Tickets are $10 each, 2 for $15, or 4 for $20. Tickets will be sold in the commons every Friday (except October 5) from 8:15 - 8:45. The drawing will be held December 7. Tickets will also be available our production of The Murder Room November 8, 9, 10. Please check our website www.mannpatriotplayers.com for more purchase times!
---
Free and Reduced Lunch Application

Click here to apply for Free/Reduced Lunch.
---
Broadband internet service available for low-income individuals in SC

Through budget and policy recommendations to the General Assembly, the Education Oversight Committee (EOC) has supported initiatives to expand Internet access to students in classrooms and beyond the traditional school day to students at home.
Access from AT&T® provides an affordable way for eligible low-income consumers to get affordable Internet access. Households with at least one resident participating in Supplemental Nutrition Assistance Program (SNAP) may qualify for Internet service at $5 or $10 per month, depending on the speed available. In addition, installation and Internet equipment fees will be waived for participating households. Potential customers can learn more and see if they qualify by visiting att.com/access, or by calling 1-855-220-5211 for assistance in English or 1-855-220-5225 for assistance in Spanish.
For more information on qualifications, click here.
---
Attention Parents and Students in the Class of 2019! Sign up to receive Senior Annoucements on your phone!

---
---