Upcoming Events
News & Notes
A.R.M.E.S. Program Nomination Process
The ARMES Program at the FIne Arts Center is a tuition-free arts program designed to meet the needs of students in grades 3 through 8 who have demonstrated outstanding talents and a deep interest in dance, strings, theatre or visual arts. The purpose of the program is to allow students to explore their chosen art form in depth while promoting individual creativity. The online nomination process for the next school year is now open. Rising 3rd through 8th grade students may be nominated by a teacher, parent, adult, self or peer. The person nominating a student will fill out the student information and the recommendation portion. All interested students must have an on-line nomination form completed by April 5th, 2017. Click here for more information and to submit a form.
---
PTA Interest Form

We have started the search for some new faces to add to our PTA board next year. If you have thoughts or ideas on how to make the PTA better for our students and staff, please consider joining our board. If you would like to learn more about our PTA, or know someone who would be a good addition for us, please click the link and give us your information so we can follow up with you. This in no way obligates or commits you to anything other than learning more about the Taylors Elementary PTA board. Click here if you'd like to learn more about being on the Taylors Elementary PTA board for 2017-18.
---
Energy Kit Challenge

We are up to 230 kits requested - that means another $250 for our PTA. Only 70 more sign ups and our PTA will receive another $250. So far we have earned $500 for our school just by having people sign up for these free energy kits! AND we can keep going...for every 100 sign ups we earn $250. Sign ups are not limited to families with children at Taylors Elementary. Anyone you know that is a Duke Energy customer can sign up and select Taylors Elementary to receive credit.
Our school is taking the My Energy Kit Challenge and has a goal to save at least 20,000 kilowatt-hours of energy this school year. We'll reach this goal when at least 100 families at our school sign up for a FREE Energy Kit and use it to make their homes energy-efficient. These FREE kits from Duke Energy contain items like LED bulbs, faucet aerators, and other useful gadgets that can make a big difference toward saving energy at home. If we can meet the challenge, our school will automatically win $250. Take the My Energy Kit Challenge and sign up for your FREE kit at MyEnergyKit.org or call 1-855-386-9548.
---
Trex Recycling Challenge

Taylors Elementary is now part of the Trex Recycling Challenge. The Trex Company has hosted the Recycling Challenge since 2006, with the objective of educating students on the importance of plastic film recycling through a school recycling program. Participating schools compete against other schools in their city, county, district or region to recycle the most plastic film and the winning school is awarded a Trex bench. Each participating school receives an award from Trex.
We have containers outside of the PTA room, in the teacher workroom, and outside of the teacher's lounge. Please help us by recycling your plastic bags and film packaging.
---
Volunteers

School Visitor and Volunteer Guidelines
Greenville County Schools (GCS), in an effort to ensure the safety of all of our students, is implementing additional security checks for school volunteers. Effective immediately, all volunteers must submit an application to the school and receive clearance from the district before interacting with children in the school or chaperoning any school field trip. Volunteers are now identified by two different categories: Level I or Level II.
Taylors Elementary School has begun implementing this process. Our primary responsibility is to safeguard our children and ensure we are in compliance with the identified guidelines. Thank you for your cooperation as we work with our stakeholders to complete this process. All volunteers will be required to remain in the presence of a GCS employee at all times until applications for Level II are approved. Thank you for ensuring the safety of all of our children. Please let me know if I may be of further assistance to you during this process.
Rhonda R. Rhodes
Click here for forms that need to be completed.
---
PTA Newsletter Mailing List

---
School Supply List
Click here for your school supply list for the 2016-2017 school year!
---
Signup Genius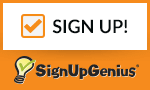 Click on the image on the right to find out about volunteer opportunities at Taylors Elementary. Please consider volunteering!
---