Upcoming Events
News & Notes
Pennies for Patients

Please Support Pennies for Patients!
Taylors Elementary students will be taking part in The Leukemia & Lymphoma Society's (LLS) Pennies for Patients program from October 10th through October 28th.
During this program, students will collect money to support LLS' mission:
Cure leukemia, lymphoma, Hodgkin's disease and myeloma, and improve the quality of life of patients and their families.
Students will learn about service, leadership, philanthropy and how they can make a difference by changing patients' lives.
Taylors Elementary has its own online giving page that students, parents and faculty can share with friends and family: http://events.lls.org/pages/sc/Taylors-Elementary-School-2017

Thank you in advance for helping LLS to create a world without blood cancers!
For more information on the Pennies for Patients program, please visit http://www.studentseries.org
.
---
Tinsel Town

---
Volunteers

School Visitor and Volunteer Guidelines
Greenville County Schools (GCS), in an effort to ensure the safety of all of our students, is implementing additional security checks for school volunteers. Effective immediately, all volunteers must submit an application to the school and receive clearance from the district before interacting with children in the school or chaperoning any school field trip. Volunteers are now identified by two different categories: Level I or Level II.
Taylors Elementary School has begun implementing this process. Our primary responsibility is to safeguard our children and ensure we are in compliance with the identified guidelines. Thank you for your cooperation as we work with our stakeholders to complete this process. All volunteers will be required to remain in the presence of a GCS employee at all times until applications for Level II are approved. Thank you for ensuring the safety of all of our children. Please let me know if I may be of further assistance to you during this process.
Rhonda R. Rhodes
Click here for forms that need to be completed.
---
PTA Newsletter Mailing List

---
School Supply List
Click here for your school supply list for the 2016-2017 school year!
---
Signup Genius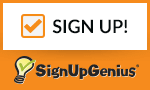 Click on the image on the right to find out about volunteer opportunities at Taylors Elementary. Please consider volunteering!
---