News & Notes
Raze Craze

Paying it forward with Random Acts of Kindness
How does it work?
2. Create an account and enter email addresses of family and friends who might be willing to make a donation to support our school
3. Have your student pay it forward by doing random acts of kindness and service as a thank you for the donations
4. Be sure to go back to your account and check off all the good deeds your student has completed
If you'd like to make a donation with cash or check (payable to Taylors Elementary PTA) please make sure to include your student's name and teacher name so your student gets credit.
---
Volunteers

School Visitor and Volunteer Guidelines
Greenville County Schools (GCS), in an effort to ensure the safety of all of our students, is implementing additional security checks for school volunteers. Effective immediately, all volunteers must submit an application to the school and receive clearance from the district before interacting with children in the school or chaperoning any school field trip. Volunteers are now identified by two different categories: Level I or Level II.
Taylors Elementary School has begun implementing this process. Our primary responsibility is to safeguard our children and ensure we are in compliance with the identified guidelines. Thank you for your cooperation as we work with our stakeholders to complete this process. All volunteers will be required to remain in the presence of a GCS employee at all times until applications for Level II are approved. Thank you for ensuring the safety of all of our children. Please let me know if I may be of further assistance to you during this process.
Rhonda R. Rhodes
Click here for forms that need to be completed.
---
PTA Newsletter Mailing List

---
School Supply List
Click here for your school supply list for the 2016-2017 school year!
---
Signup Genius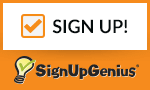 Click on the image on the right to find out about volunteer opportunities at Taylors Elementary. Please consider volunteering!
---