News & Notes
Summer Reading List

Summer Reading - 2016
There are hundreds of books to choose from at your local library or neighborhood bookstore. Choose two or three…or ten to read this summer.
---
School Supply List
Click here for your school supply list for the 2016-2017 school year!
---
Signup Genius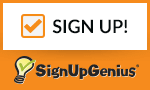 Click on the image on the right to find out about volunteer opportunities at Taylors Elementary. Please consider volunteering!
---