News & Notes
Hockey Night

Are you ready for some HOCKEY?
Join us for Spirit Night at
"The Well"
March 11
Puck drops at 7pm
Only $12 each
Click the link to purchase tickets
https://swamprabbits.isportstix.com/order/group/taylors/
---
Jump Rope for Heart

We kicked off our Jump Rope/Hoops For Heart program in P.E this week and our school's event is right around the corner! This is a fun and exciting event for our entire school as we work together to raise money for the American Heart Association and save lives! Online donations are due by 2/25/16 which is our event date. We are only accepting online donations.
Your child will be telling you about the Lifesaver puppies, so we wanted to fill you in! Each puppy teaches the kids a new way to protect their heart and avoid risk factors for heart disease and stroke. Your child can earn all 6! If you raise $5 your child will get Super Pup at school now. If that donation is made online, they will also get a second puppy, Ninja Star. Any student who reaches $85 online will get Martia N. Mutley.
You can sign up now by following these quick, easy steps to get started raising money and saving lives!
1. Go to www.heart.org/jump or www.heart.org/hoops
2. Choose our state and city.
3. Select our school and join team.
4. Login
You can also use the Jump/Hoops App to ask friends and family to support you! Follow the link below to download the App! It is super easy and fun!
Apple iOS - https://itunes.apple.com/us/app/jump-hoops/id548389448?ls=1&mt=8
Google iOS - https://play.google.com/store/apps/details?id=com.aha_jump.android.communicator
---
Calling All Friends of Taylors Elementary

We need volunteers at Taylors Elementary!
Here are some great upcoming opportunities for you.
Feb. 5-12 – Book Fair
http://www.signupgenius.com/go/10c0848acac2ca5f49-2016
Friday, Feb. 5 – 2nd Grade Math Carnival
www.SignUpGenius.com/go/10C0F4CAEA928ABF58-2ndgrade1 ​
Wednesday, Feb. 10 – Kona Ice ***Scholarship earning event***
http://www.signupgenius.com/go/10c0848acac2ca5f49-kona5
Tuesday, Feb. 16 – Fuddruckers Spirit Night 5-8pm ***Scholarship earning event***
http://www.signupgenius.com/go/10c0848acac2ca5f49-fuddruckers
Thursday, Feb. 18 – Teacher Appreciation Duty Free Lunch
http://www.signupgenius.com/go/10c0848acac2ca5f49-dutyfree
---
Bi Lo Bonus Card School Rewards

BI-LO would like to invite our school to participate in the Hometown Educational Rewards program and earn free equipment and supplies! Shoppers that wish to support Taylors Elementary simply need to link their personal BI-LO BONUSCARD® in one of two ways:
By completing the simple online registration form.
By completing a supporter sign up form with our school.
---
Graduation Plus

Graduation Plus
Graduation Plus (G+) is Greenville County School District's way of assisting our students earn a diploma, trade certificate, and college credit. These opportunities allow students to prepare for college and/or careers. If you wish to learn more, please click here.
---
PTA Newsletter Mailing List
Would you like to subscribe to the PTA Newsletter Mailing list? Click here to complete the form to be added to the mailing list. This form is managed by a third party - MailChimp, which is not part of Taylors Elementary or Greenville County Schools.
---
School Supply List
Click here for your school supply list for the 2015-2016 school year!
---
Signup Genius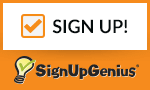 Click on the image on the right to find out about volunteer opportunities at Taylors Elementary. Please consider volunteering!
---