News & Notes
PTA Survey
The PTA is conducting a survey about membership, volunteering, and fundraisers. We want to know what worked for our families last year and what they want next year. The link is Taylors Elementary PTA Survey.
---
Summer Events for Taylors Topcats

Skate Night - Thursday, July 9 - 6-8pm @ Taylors Roller Sports
Sky Zone Spirit Night - Friday, July 17 3-8pm @ Sky Zone on Laurens Rd (click here for more information)

Skate Night - Thursday, August 3 6-8pm @ Taylors Roller Sports
---
Signup Genius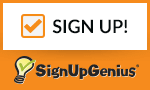 ---
Bi Lo Bonus Card School Rewards

BI-LO would like to invite our school to participate in the Hometown Educational Rewards program and earn free equipment and supplies! Shoppers that wish to support Taylors Elementary simply need to link their personal BI-LO BONUSCARD® in one of two ways:
By completing the simple online registration form.
By completing a supporter sign up form with our school.
---