News & Notes
Green Team Club
4th and 5th Graders - are you interested in learning about ways to be environmentally responsible. Green Team Club will begin meeting on Monday, December 14th from 3:00 to 4:00 pm. We will meet on the 2nd and 4th Mondays each month. Applications must be turned in to Mrs. Kay by Friday, December 4th. Applications are available in the office or click here to download an application.
---
Annual Clemson vs. Carolina Food Drive

Mrs. Rhodes
(217)
Mr. Officer (427)
GOOD SPORT!
---
Change in Assignment Choice
The 2016-17 Change in Assignment Choice lottery application window will be available to parents from Monday, December 7 through Friday, December 18, 2015. The Change in Assignment Choice process will remain the same as last year. Parents will be notified of their school assignment no later than Thursday, March 24, 2016. Change in Assignment Choice does not impact the process for applying to the district's 11 magnet academies and Sara Collins Elementary. All households will receive a mailed brochure this month outlining the process.
---
Teacher Workroom Update

Teacher Workroom
The Teacher Workroom has recently been updated and improved. Thanks to some generous sponsors, we have been able to purchase some new equipment and provide some much needed supplies. If you have some time to volunteer, stop by and check it out. The teachers leave things in the bins that they need help with. Most of them take very little time, however, it is a big help and time saver for the teachers. Thanks again to our community sponsors.
---
Bi Lo Bonus Card School Rewards

BI-LO would like to invite our school to participate in the Hometown Educational Rewards program and earn free equipment and supplies! Shoppers that wish to support Taylors Elementary simply need to link their personal BI-LO BONUSCARD® in one of two ways:
By completing the simple online registration form.
By completing a supporter sign up form with our school.
---
Graduation Plus

Graduation Plus
Graduation Plus (G+) is Greenville County School District's way of assisting our students earn a diploma, trade certificate, and college credit. These opportunities allow students to prepare for college and/or careers. If you wish to learn more, please click here.
---
PTA Newsletter Mailing List
Would you like to subscribe to the PTA Newsletter Mailing list? Click here to complete the form to be added to the mailing list. This form is managed by a third party - MailChimp, which is not part of Taylors Elementary or Greenville County Schools.
---
School Supply List
Click here for your school supply list for the 2015-2016 school year!
---
Signup Genius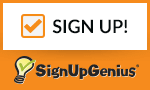 Click on the image on the right to find out about volunteer opportunities at Taylors Elementary. Please consider volunteering!
---